The 26th International Exhibition "Khimia 2023" will be held from 30 October to 2 November 2023 in Moscow.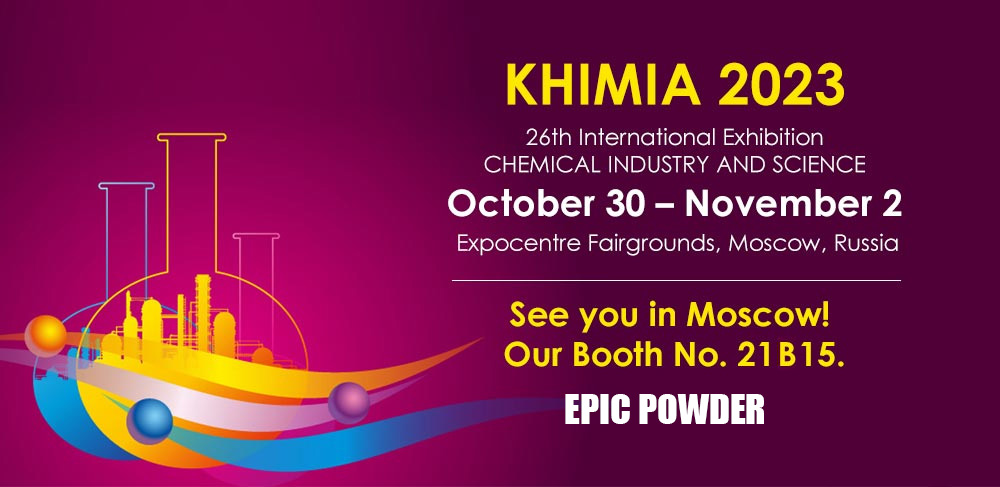 The International Exhibition "Khimia" has been held since 1965 in Moscow and it has become one of the most prestigious industrial exhibitions in the world.
The exhibition contributes to the promotion of high-performance equipment and advanced technologies necessary for the production of competitive chemical products in the Russian market. It helps domestic producers to learn the demand on local and world markets to produce high-demand products for all sectors of the economic complex of the country.
Exhibition name: KHIMIA 2023, address: Moscow, Russia
Exhibition Hall Address: Expocentre Krasnopresnenskaya nab., 14 Moscow, Russia
Exhibition time: October 30, 2023 10:00AM-18:00PM
October 31, 2023 10:00AM-18:00PM
November 1, 2023 10:00AM-18:00PM
October 2, 2023 10:00AM-16:00PM
EPIC Powder Booth No. 21B15
Welcom to visit our company Booth.